---
What's new
9/23/2002 Preliminary English manual is now available
9/22/2002 I was made aware of the article in US-CQ Aug. issue. I updated some links in the page. The latest version supports CW keying via USB interface and works on Windows XP. English documentation is still not available. If therefs anyone who is interested in helping out and can read some Japanese, please contact me. BBS is now open for your comments and questions.
12/25/2000 Opened the English web site
Introduction
zLog for Windows is a full-featured contest logging software that runs on Windows. It supports major international and domestic (JA) contests and is customizable to many other contests not directly supported by zLog. Features include CW keying via parallel/serial/USB interfaces, highly sophisticated TCP/IP network that allows instant synchronization of a log of an M/M station, rig control, PacketCluster connenction, etc. The best of all, everything is provided FREE for amateur use.
<![if !supportEmptyParas]> <![endif]>
Unfortunately, no English documentation is available for zLog. However, most captions are in English and user interface should be very intuitive. You are welcome to e-mail me (zlog@zlog.org) for questions or comments. We hope to set up a BBS for discussions in the near future.
CW keying, paddle connection (parallel port), voice memory.

Easy to set up network via standard TCP/IP LAN or Internet connection.

Supports PacketCluster connection via packet or telnet.

Rig control (up to two radio).

Supports ADIF output format.

Supports DX

f

pedition mode with WARC bands (10/18/24 MHz).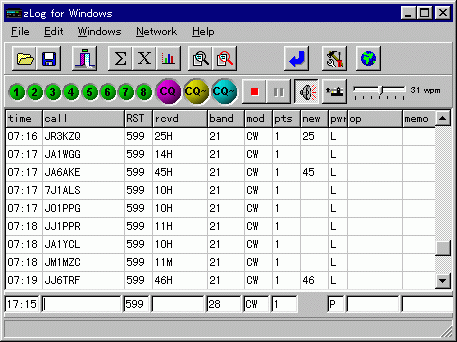 ver 0.29 screen shot

Download
The software is distributed as freeware. No support is guaranteed. Use at your own risk. Z-Server is only necessary for setting up multi-TX networks.
| | |
| --- | --- |
| | zLog for Win ver 2.0w (Full set) with USB keying support for Windows 98/ME/NT/2000/XP |
| | zLog for Win ver 2.0w95 (Full set) for Windows95 |
| | Z-Server ver 1.2f (Network server) |
| | Preliminary English Manual (ver 2.1) |
| <![if !supportEmptyParas]> <![endif]> | <![if !supportEmptyParas]> <![endif]> |
USB keying I/F, USBIF4CW (by JG5CBR) in Japanese
Voice player interface examples
RCC Lite for Windows A CW touchcoder for Windows.